Dany Sanz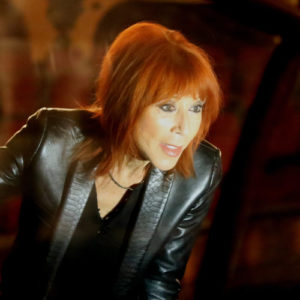 Creator of the brand, Make Up for Ever
Dany Sanz starting by opening a unique school that will become internationally famous and reference for all makeup artists
The existing make-up products are insufficient for her creations and anti-conformist courses .
She begins in a very artisanal way and without being a chemist with her students to make homemade products
Developing products at the source fascinates her and meeting the technical and creative needs of make-up artists .It's becomes an obsession.She is surrounded by laboratory chemists eager to innovate and pushed by her students decides to make a range exclusively reserved for the pros.
Born from this craze MAKE UP STUDIO which will then become MAKE UP FOR EVER
Its recognition in the world of make-up artists is enormous and gives credibility to her formulas.
The brand is distributed worldwide via Dany's students
Dany approaches laboratories to find innovative formulas pleasing to the pros and then the public all over the world. Dany is international , the brand will quickly be so
Public sales points which have been opened by Sephora Paris will come to see MUFE as soon as it opens. Other countries will follow. The make-up artists and employees of the brand are united by a spirit of trust and share equitable dynamism.
– The Dany's Tribe spirit gives a different vision of the marginal but loyal brand
The brand grows considerably in all areas. Dany is interested in the needs of the markets and creates products adapted for multi-cultural choices .
Education remains very important in the corporate culture for Dany and opens doors and generates needs
In 1999 The LVMH group ,L'Oréal , and several other big cosmetic groups approached the brand. The groups appeared very powerful in the cosmetics world .
En 2000 LVMH took possession of the brand as well as Dany, who had become the muse and her husband who remained in the company. The brand was already present in 45 countries around the world in the form of pros shops ,pts of public sales, open space department stores and particularly Sephora. –
The brand had also her own laboratory, directed by R.Girousse binome of Dany
In-house formulas continue to be accompanied by formulas made by other laboratories.
A new school born ,called Academy of makeup supervised by Dany. The wish of this one is to open Academies in all areas of the world to perpetuate the spirit of Make up for ever .. What has been done in part
At the end of 2017 Dany leaves the brand and the group by mutual agreement. Mutual visions are no longer possible.
Dany continues her journey by maintaining her convictions and by sharing them with other brands as well as by continuing her educational sharing in the form of master classes using her knowledge of art her educational sharing in the form of master classes using her art sensitivity as an artist.
Her all-terrain experiences concerning products ranging from the creation of the development to the sale of these.