Point make-up trends in Asia
From lip texture excitement to new eye definition
Point make-up, an ever-effervescent category in Asia, has been challenged by the pandemic, as mask wearing outside and working at home became the norm. Makeup sales were anemic globally even so the 'mask effect' led to good sales in eye products but big declines for lipsticks. Nowadays, the sales of eyebrows and mascaras are growing because of continuous makeup trend that puts an emphasis on eye makeup, and demand for transfer-proof lip colors and foundations is also increasing. (Nikkei Asia).
As we mentioned in our previous article the base makeup category is undergoing profound changes with new lexicality and function, and so does point makeup.
Indeed, ultra-functional lipsticks adapted to mask-wearing have emerged since 2020, continuing to challenge the lip segment with always more long-lastingness and moisture-retaining technology. One of the case in point to illustrate this trend is Kate Lip Monster (JP) which has sold over 1.2 million units in the six months since its release in May 2021. The reason for its success is the combination between a unique technology that utilizes moisture evaporating from the lips and transforms it into a tight-fitting gel film, and the trendy colors offered such as Lump of Desire and End Boss that made it popular on social media.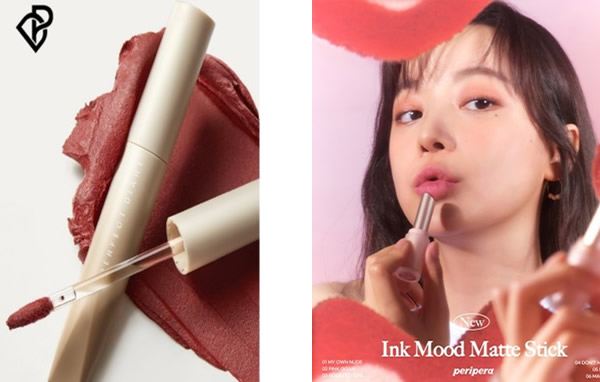 Interestingly enough, although the lip category seemed slow, brands are coming up with an array of new textures, especially around liquid lip format, that shows a new dynamic is at play. Chinese successful brand Perfect Diary has released A Pottery Clay Lip Mud, following the "lip mud" craze that started beginning of the year, while Korean brand Romand is pushing the trend of blurry lips with its Blur Fudge Tint. Also inspired by the gourmand vocabulary, Chinese brand Into You has launched a Caramel Honey Syrup-like lip gloss whereas Peripera new Ink Mood Matte Stick displays a soufflé texture based on Pongsil-Souffle Complex. Last but not least, Korean brand Amuse has launched in February 2022 a new range called Choux Velvet, introducing a light choux cream texture defined as "fluffy matte outside and moist inside".
On the other hand, eyes have become the center of attention from bold points of colors on eyelids to extremely sophisticated eyebrow looks.
Colorful eyebrows are still super trendy, from "reddish" color to khaki or purple to foggy pink in Japan. Jill Stuart launched Mousse Brow mascara in shade 10 in July 2021, which color, soft yet glamorous red with a bluish tint, is buzzing to match the trendy purple eyebrow look. Another trendy launch: Japanese Amplitude Eye brow color mascara softens dark brows and makes light brows stand out, offering the correct eyebrow color for any brow. In March 2022, Little Lady from Japan launched BABY NUANCE AIRY TIP EYEBROW, a powder eyebrow product that creates baby-like thin and fluffy brows. Both natural beige and pink beige color variations blend naturally with the skin and provide a gentle and effortless look. Although there have been launches connected to "baby-like" lips in the past, having "baby-like brows" may create a fresh and exciting direction for the brow trend in 2022.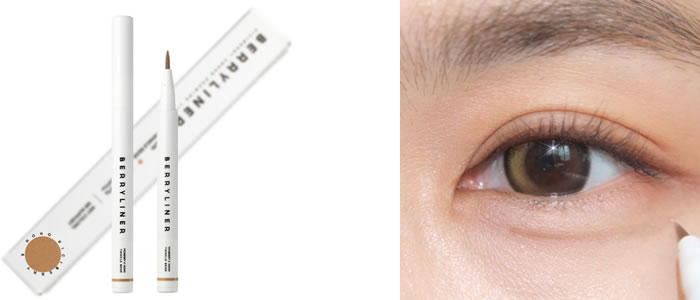 Another trend that started in 2021 and continues to buzz is the tear bag eye makeup, but with new under eye products that create a subtler volume, with a mix of shading and highlighting colors. Korean brand Holika Holika has released a Under Eye Maker, which is dual-ended pencil, with a brown liner that mimics natural shade and a shimmer/glitter shadow stick that adds volume under the eye. In 2022 the tear bag eye makeup is still trending, but evolving to a subtler definition, using a sheer brown colored liquid eyeliner instead of pencil or eyeshadows of 2021, like the new Berry Liner from Korean brand Piciberry launched in February 2022.